Janani Krishnaswami, MD, MPH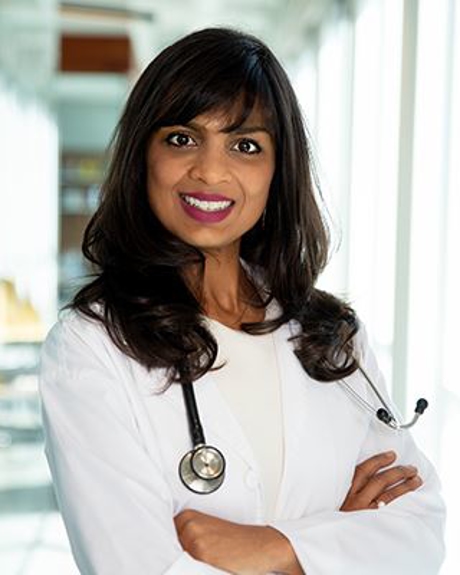 Contact Information
Biography
Dr. Krishnaswami is one of few physicians triple-board certified in Internal Medicine, General Preventive Medicine and Public Health, and Lifestyle Medicine. Her goal is to offer culturallysensitive medical care that not only treats symptoms but also prevents disease and improves long-term health.
Dr. Krishnaswami is passionate about helping patients reach their optimal health through lifestyle change. She addresses the key factors that affect long-term health, including weight, stress, sleep, diet, and exercise, using a personalized approach. Dr. Krishnaswami's practice philosophy emphasizes spending time with patients to understand their current barriers to health, and then working together to build solutions one step at a time. She thrives on seeing her patients become healthier, stronger, and happier through lifestyle changes.
Dr. Krishnaswami has expertise in managing common adult primary care concerns, with an emphasis on chronic conditions such as diabetes, heart disease, and high blood pressure. She has also worked with motivated adults and adolescents interested in a purely lifestyle-based approach to healthy weight management.
Dr. Krishnaswami's areas of expertise include:
Disease prevention and risk reduction
Preventive care and wellness
Smoking cessation
Healthy eating and dietary optimization
Physical activity
Athletic performance and nutrition
Weight management (non-surgical))
Simple depression and anxiety
High blood pressure
High cholesterol
Diabetes
Thyroid disorders
Arthritis
Experience & Education
Dr. Krishnaswami attended the University of Michigan Medical School in Ann Arbor, graduating as a Dean's Scholar with Distinction in Service, and completed her Masters' in Public Health at University of California (UC) - Berkeley. She completed a dual residency in Preventive Medicine and Internal Medicine at UCSan Francisco and Kaiser Permanente and then served as a Kennamer Fellow in Community Medicine at UC Los Angeles and Kaiser Permanente. 
For over seven years, Dr. Krishnaswami served as a leader and teacher in academic medicine in various institutions, including within the University of Texas and University of California systems. Here, she taught medical students and residents, developed and directed prevention and wellness programs, and introduced new opportunities for medical students and residents to engage in preventive medical practice.
She has served as a physician-advocate for healthier environments, health equity, and lifestyle-based prevention in ethnically diverse communities in Northern and Southern California, Michigan, Texas, Ecuador, the Dominican Republic, and India.
Publications & Public Appearances
Dr. Krishnaswami is also a teacher, writer and highly-rated speaker on topics related to prevention, humanism in medicine, wellness, and building health in diverse communities. Her essays, interviews, and opinion have appeared in PracticeLink Magazine, Pulse Magazine, the Kaiser Permanente Journal, the New York Times, healthcare blogs, and leading medical journals. She was a featured guest speaker on various local news channels and national medical education podcasts, and served as a speaker at numerous medical conferences on topics related to prevention and lifestyle medicine.
Awards
AAMC Leadership Institute Fellow
ADVANCE Leadership Institute Fellow
Board Member, Rio Grande Valley Diabetes Association
Board Member, Friends of International Baccalaureate Schools
Member, Graduate Medical Education Committee, American College of Preventive Medicine
Member, Clinical Practice Working Group, American College of Lifestyle Medicine
Member, Community Outreach Committee, American College of Lifestyle Medicine
Chair, Community Engagement Subcommittee, City of McAllen Wellness Council
Fellowship

Kaiser Permanente & University of California, Los Angeles: Kennamer Fellow, Community Medicine/Public Health

Los Angeles, CA
Kaiser Permanente & University of California, Los Angeles

Residency

Internal Medicine & Preventive Medicine

San Francisco, CA
Kaiser Permanente & University of California, San Francisco

Medical School

Doctorate of Medicine

Ann Arbor, MI
University of Michigan Medical School

College

Master of Public Health: Epidemiology

Berkeley, CA
University of California Berkeley

Certificate, General Course: Economics and International History

London, UKK
Oxford University, London School of Economics

B.S. Economics; B.A. Public Policy; B.A. International Studies

Dallas, TX
Southern Methodist University